Sensory play is so much fun and so important. If you're interested in a quick overview of our other senses besides the common 5 senses, check out my post More Than 5 Senses.
 Below I will share my favorite types of toys to encourage sensory play. Feel free to click on the pictures that will take you to amazon, or you can do your own search for similar items. If you have toys you love, I'd love to hear about them in the comments section! This will be a growing list, so please come back again.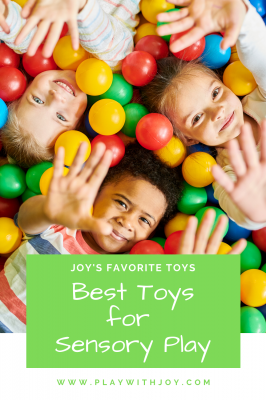 As an Amazon Associate, I earn from qualifying purchases at no cost to you.
Proprioceptive and Vestibular Activities
These activities are good for body awareness, large motor skills, balance, movement, etc.
Exercise Ball-There's so much you can do with an exercise ball. You can have a child sit on it and bounce, sway back and forth or side to side, play stop and go games. You can also have your child lay on their stomach and rock them forward to pick things up or do a puzzle. You can also roll the ball on top of your child to give good proprioceptive input.
Scooter Board-I have used a lot of scooter boards like these, but not this specific one. It had great rating though. I love scooter boards. They provide heavy work, proprioception, vestibular, motor planning, large motor skills, and probably more. You can do lots of different activities on them. You can do matching activities where a child has to find something on one side of the room and match it on the opposite side while using the scooter.
Tactile activities are great for kids who seek out a lot of tactile sensory input, but they're also good for kids who avoid them. Don't force your kids to play with them, but giving them exposure to different textures can be good for them.
Water Beads-These are fun to explore. They're fun to watch them grow, and also to feel the different textures. In the beginning they're just hard and dry, but then when you add water they get slippery and a little slimy. A little goes a long way. I got a much smaller package at Walmart. It makes a lot.
Sensory Table-There are a lot of different sensory tables out there. This kind has been my favorite in my classroom, but it's way more pricey. There are a lot of other good choices out there. There's so much you can do with a sensory table though. My recommendation would be to pay attention to the height of the table because the one I bought for home is a little on the short side.